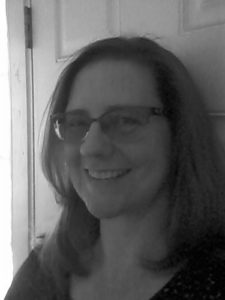 Kristen Hanlon is the author of the chapbook Proximity Talks (Noemi Press). Her poems have appeared in Colorado Review, Volt, New Orleans Review, Interim, Aspasiology, Posit, failbetter, and elsewhere. She lives in California.
Janine Joseph is a poet and librettist born in the Philippines. She is the author of Driving Without a License, winner of the Kundiman Poetry Prize. Her writing has recently appeared in or is forthcoming from The Nation, The Georgia Review, Orion Magazine, Pleiades, World Literature Today, The Atlantic, and Copper Nickel. Her commissioned libretti for the Houston Grand Opera/HGOco include In Our Care, What Wings They Were, "On This Muddy Water": Voices from the Houston Ship Channel, and From My Mother's Mother. A co-organizer for Undocupoets and a MacDowell Fellow, she is an assistant professor at Oklahoma State University.
James Davis is the author of Club Q, which Edward Hirsch selected for the 15th Annual Anthony Hecht Poetry Prize (Waywiser, 2020). His poems have been anthologized in two installments of Best New Poets (2011 & 2019) and have appeared in journals such as American Literary Review, Copper Nickel, The Gay & Lesbian Review, and 32 Poems. He blogs about video game music for Cartridge Lit and teaches writing at the University of North Texas, where he is a Voertman-Ardoin Fellow and a PhD candidate in Creative Writing.
Isaac Stackhouse Wheeler is a poet and translator best known for his work with co-translator Reilly Costigan-Humes on novels by great contemporary Ukrainian author Serhiy Zhadan, including Voroshilovgrad, published by Deep Vellum, and Mesopotamia, published by Yale University Press. Wheeler's poetry has been appeared in numerous journals, including Apofenie, the Big Windows Review, and the Peacock Journal.
Andrei Konchalovsky, one of Russia's finest directors, collaborated on screenplays with Andrei Tarkovsky before cementing his own place in Soviet cinema, then leaving for Hollywood – where he continued to make award-winning films. Recently he collected a special jury prize at the Venice International Film Festival for "Dear Comrades!"

Alex Averbuсh, a native of Novoaidar, Luhans'k region, Ukraine (b. 1985), is a bilingual (Ukrainian/Russian) poet, translator, and literary scholar. His poetry, both original and translated, has been published in various literary journals and anthologies. He is the author of two books of poetry and an array of literary translations between Hebrew, Russian, Ukrainian, and English. He has organized numerous poetic performances and festivals (most recently, the International Festival of Contemporary Ukrainian Poetry, summer 2020). His poetry deals with the issues of ethnic fragmentation and in-betweenness, multiple identities, queerness, cross- and multilingualism, documentalist writing, and memory.
Pulitzer Prize finalist Dorianne Laux's most recent collection is Only As The Day Is Long: New and Selected, W.W. Norton. She is also author of The Book of Men, winner of the Paterson Poetry Prize and Facts about the Moon, winner of the Oregon Book Award. She teaches poetry at North Carolina State and Pacific University. In 2020, Laux was elected a Chancellor of the Academy of American Poets.
Derrick Austin is the author of Tenderness, winner of the Isabella Gardner Award (BOA Editions, Fall 2021), and Trouble the Water (BOA Editions, 2016) selected by Mary Syzbist for the A. Poulin Jr, Poetry Prize. His debut collection has been honored as a finalist for the 2017 Kate Tufts Discovery Award, the 2017 Thom Gunn Award for Gay Poetry, the 2017 Lambda Literary Award for Gay Poetry, and the 2017 Norma Faber First Book Award.
Camille T. Dungy is the author of four collections of poetry, most recently Trophic Cascade, winner of the Colorado Book Award, and the essay collection Guidebook to Relative Strangers Journeys into Race, Motherhood and History, finalist for the National Book Critics Circle Award. She has edited three anthologies, including Black Nature Four Centuries of African American Nature Poetry. Her honors include a Guggenheim Fellowship, NEA Fellowships in both poetry and prose, and an American Book Award. She lives in Colorado with her husband and daughter, where she is a University Distinguished Professor at Colorado State University.
Ata Moharreri was born in Rolla, Missouri. His mother emigrated from Minsk, Belarus and his father emigrated from Tehran, Iran to America. 
Ruben Quesada is the author of Revelations and Next Extinct Mammal. His writing has appeared in Best American Poetry, American Poetry Review, and other journals. Currently, he serves as a member of the PEN America Literary Awards Committee, as a blogger at The Kenyon Review and as poetry editor at AGNI.
Olga Zilberbourg is the author of Like Water and Other Stories (WTAW Press) and three Russian-language story collections. She lives in San Francisco and co-hosts the weekly San Francisco Writers Workshop. Together with Yelena Furman, she runs Punctured Lines, a feminist blog about post-Soviet literature.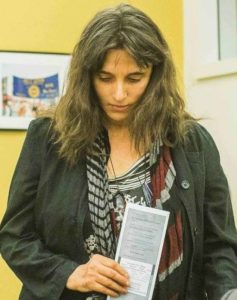 Moscow born, Nina Kossman is a painter, sculptor, bilingual writer, poet, translator of Russian poetry, and playwright. Among her published works are two books of poems in Russian and English, two volumes of translations of Tsvetaeva's poems, two books of short stories, an anthology published by Oxford University Press, and a novel. Her work has been translated into Greek, Japanese, Russian, Hebrew, Persian and Spanish. She received a UNESCO/PEN Short Story Award, an NEA translation fellowship, and grants from Foundation for Hellenic Culture, the Onassis Public Benefit Foundation, and Fundacion Valparaiso. She lives in New York.
Matthew Girolami holds an MFA from the Iowa Writers' Workshop, where he was a Teaching-Writing Fellow. His work appears or is forthcoming in The American Poetry Review, The Believer, The Columbia Review, Denver Quarterly, and elsewhere. His reviews appear in Jacket2 and Poetry International Online. He lives and works in Philadelphia.
L Scully (they/them) is a queer writer and double Capricorn currently based in Boston. They are the cofounder and prose editor at Stone of Madness Press. Find them in the ether @LRScully.
Maxim Matusevich is a native of St. Petersburg, Russia, a city to which he still feels a powerful and enduring connection. He emigrated from the former Soviet Union to the United States in 1991. He is presently a Professor of Global History at Seton Hall University, where he also directs an interdisciplinary program in Russian and East European Studies. A professional historian by training and vocation, he started to write and publish fiction in English about three years ago. His two short stories and a novella appeared in the Kenyon Review, New England Review, and the Bare Life Review. In his writing, Maxim is drawn to characters who are whimsical and unconventional. As befits a historian, the questions of the malleability of memory and urban nostalgia loom large in his artistic imagination.
Elmira Kakabayeva is a writer, a journalist, and researcher. She was published in the collections of stories "No Resolution" and "A Little Book of Stories on Female Sexuality" (No Kidding Press, Moscow). She also collaborated with Taus Makhacheva for the "Seismic Jitters" installation (Lahore Biennale, 2020). Elmira is interested in topics of sexuality, memory, decolonial identity, and non-western feminisms.
Preeti Vangani is the author of the poetry collection Mother Tongue Apologize (RLFPA Editions), winner of RL India Poetry Prize. Her work has appeared in  BOAAT, Juked, Gulf Coast, Threepenny Review among other journals. She is the editor for the online journal Glass and teaches poetry with Youth Speaks in San Francisco.
Ericka Vee is a professional writer and poet. She is the author of the chapbook The First Shot Was Never With A Camera, and was nominated for the AWP Intro Journals Contest for her poem nevermind who ya thought i was. Her poem Breonna Taylor- june 9th, lately will be published in the Spring 2021 issue of The SanFranciscan Magazine. Ericka holds a BA from the University of  California, Santa Cruz and an MFA in poetry from the University of San Francisco.
She is currently writing and finding her joy.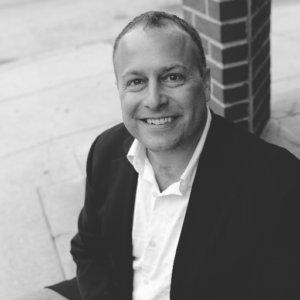 Bryon MacWilliams is a former longtime Moscow correspondent and author of the books, "With Light Steam" and "The Girl in the Haystack." His journalism, essays, poetry, and literary translations have appeared in publications big and small.
Randall Mann is the author of five poetry collections, including A Better Life, forthcoming from Persea Books in April 2021. He lives in San Francisco.